Yes I have good news and bad news about the BRISBANE PROPERTY ADVENTURE!
Heres the BAD NEWS:  If you haven't booked into the June 28th Brisbane Property
Adventure, sorry but it's too late, all ticket sales for General Admission Tickets have
SOLD OUT!!!!  This time 6 weeks out from the event, and with over 150  attendees
confirmed we are stoked!!
And the GOOD NEWS:  We have organised for a THIRD BUS to cater for extra
attendees and for a GREAT TIME!!!  This may be the PARTY BUS in the end
hahahahah!!!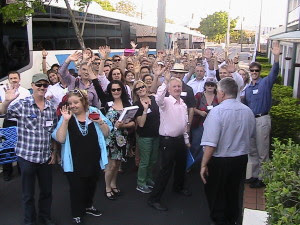 So if you have purchased tickets and have eligible to nominate your "Fr-ee Friend",
you will have til tomorrow (Wed 13th May 5pm) to let us know. (just hit reply
with your guest's FULL NAME, EMAIL AND PHONE NO.    This is on a first
come first served basis.  Please note this is subject to availability, and may
not be transferred to a future date.  )
Thousands of dollars have been raised via these ticket sales (plus Charity
Auctions at recent events).  Thanks to all of you so far who purchased tickets as
well as donated to the Mother's Milk Bank, it's certainly a worthy cause, with
20% of all ticket sales going to this Charity of Choice.
Til next time!
Nhan
PS:  There are still some VIP Tix left, which includes the DINNER WITH DEALMAKERS, on
the evening of the Brisbane Property Adventure.  For only $297 (2 tix) , that's less than
$150 per person for 1 huge day of learnings, networking, dinner with some Property
Millionaires and more!!! CLICK HERE TO BOOK NOW.  These tickets will only be available
at this price for another 2 days , so book in now!
PPS:  Here's Jennie Brown and my latest video about Positive Cashflow.  CLICK HERE TO WATCH