Welcome To Our Products Page!
 Free Delivery Anywhere Within Australia-  14 Days 100% Money Back Guarantee  (conditions apply)*
Entrepreneur's Property Weekend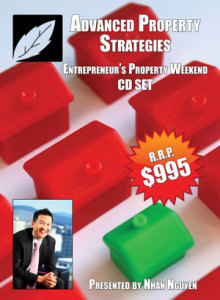 Experience the 2 Day Course that thousands have experienced, through a Live Recording.  Nhan Nguyen, best-selling co-author of Property Millionaire Book, spends 2 Days inspiring and educating investors on the following topics:
How To Find Great Deals – FAST!

How To Find and Work With Investors

How "NO Money Down" Deals Work

What To Say To Real Estate Agents to Get Hot Deals

The 2 Magic Secrets To Property Investing

And Much, Much More….
8 Audio CD Box Set $995 
Plus Bonus Online Audio

Online Only – Audio $495 

1 Day Property Development Intensive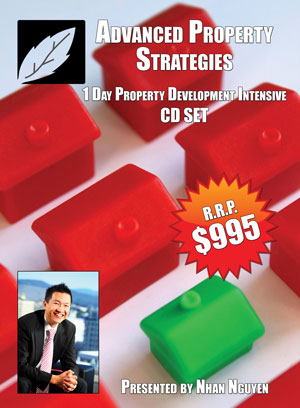 Live life through Donald Trump's eyes.  Property Development is one of those Magic Industries where you can make Millions or lose Millions – especially when you don't know what you're doing.  This is a live recording of a 1 Day Event with Property Developers Ross Williams (Land Subdivision Specialist) and Barry Mahony (Commercial Property & Unit & Townhouse Specialist) .  These 2 Powerhouses spend 6 riveting hours of pure DOWNLOAD, no fluff, high detail breakdown of what it takes to be a SUCCESSFUL DEVELOPER in this day and age, when margins are tight and finance is near IMPOSSIBLE, unless you have the DEVELOPER'S EDGE…
This recording covers Land Subdivisions, Units & Townhouses Plus an Introduction to Commercial Property.  If you are a budding PRoperty Investor / Property Developer and wanting to go to the next step, or you're an experienced PRoperty Developer looking for Real Life Examples, this program is for you.
Online Only – Video and Audio $495 

Super Selling Strategies
In volatile times when Property isn't the easiest to move, you need 2 things:  Creative Ideas and Practical Solutions.  Nhan Nguyen has sold Millions of Dollars in Property and even made $200,000 Profit in the middle of the GFC, and has engaged in dozens of Selling Strategies, many of which were not by choice, but through necessity!  Learn through the experiences of others and don't make the mistake of holding onto a rotten apple!
Online Audio $47 

How To Find Property Bargains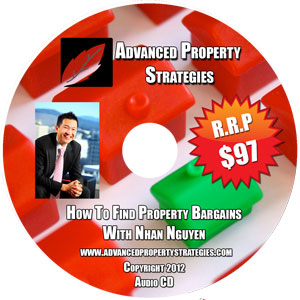 In every market there is low lying fruit, what Nhan calls "Property Bargains".  Discover how Property Pros look for great deals in ANY MARKET.  In this recording, Nhan shares his secrets to finding Great Deals, how to Negotiate a Winning Deal, and how the "Deal of A Lifetime Comes Along Every Other Week".
Online Audio $47 

The Magic of Property Options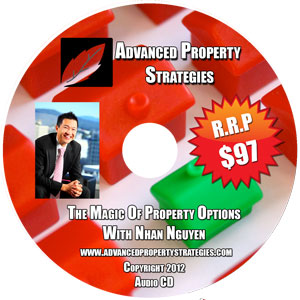 This by far is Nhan's biggest secret weapons in the game of Property.  A much underestimated and mis-understood topic Nhan demystifies Options in his simple, straight-forward and no BS approach.  Nhan has done dozens of options and loves collecting cheques from properties he's never owned!  Don't underestimate the power of Options and your ability to capitalise on this tried-and-true method of deal-making!
 Online Video and Audio $47 

15 Things You Need To Know Before Quitting Your Job & Investing Full time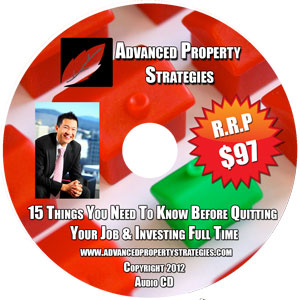 Have you thought about giving up the Rat Race and being "Your Own Boss" and using Property as your vehicle???  I'm sure you have, many times, otherwise you wouldn't be here reading this!  Nhan Nguyen quit his job before this 24th birthday and has never been back since!  In this powerful audio recording Nhan reveals his 15 keys to success that need to be addressed before you SACK THE BOSS.  Don't be fooled, it can be done, but it needs to be done the right way otherwise there will be tears!
Online Audio $47 

Property Millionaire Book – SOLD OUT!  SOLD OUT!  SOLD OUT! 
Discover the billionaires' secret- property. What if creating millions through property is easier than you think? You hold in your hands the
success secrets of 16 property millionaires who share the exact steps they have used to create millions through property.
Whether you want to be a property tycoon and achieve financial freedom or simply pay off your mortgage- you need to buy this book.
Some of the Property Millionaires we feature are:
Steve McKnight
Nhan Nguyen
Jennie Brown
Jason Marianoff
Paul Derry
and many more…
Price: $29.95 

SOLD OUT!  SOLD OUT!  SOLD OUT! 
*Refund Policy: we will honour the 100% Money Back guarantee in the event the following conditions are met:
1. If the product is a physical item – the item is returned in resaleable condition (ie. perfect condition) within 14 days of the product being dispatched.  If the item is damaged or arrives after the 14 days of original dispatch (from us) then no refund will be issued.
2. The consumer has listened to the entire recording and can demonstrate that the product was not as described.  If this condition is not met then no refund will be issued.