The Power of Six-Figure Property Profits — With Nhan Nguyen
(Just $97 — $1980 Value)
How ANYONE Can Make Money In Property & Secure Bargains In Any Market…
Using Simple-But-Lucrative Property Strategies… 
(NONE OF IT — Is Taught By Anyone Else Who Is Actually Practising It In The Current Market Place)
OKAY — GET THIS – Finding Great Deals. You will 100% love this part of the training. It's a HUUUUUUGE "Ah Ha Moment" for everyone who attends. Bargains are everywhere…you just need to know where to LOOK!
With great conviction Nhan says…
"You ARE Ready!  There are opportunities right here in front of you! You might ask… How can you be so certain?
The Answer is Simple – You just need to know WHERE TO LOOK and WHAT TO LOOK FOR. If you have bought 1 property before you can buy 2, and if you've bought 2, you can buy 4…
WOW! – Can you sense how profound that is? Nhan continues to explain by saying…
In every market there is low-lying fruit, absolutely "cracker" deals that are waiting for you to reach out and take them. You don't need to a formal Business Education to be Wealthy! I'm proof of it, I've got no formal qualifications in the area of Wealth Education, yet I've made millions in the Property Game. 
With the right strategy and mindset — You can be a extremely Profitable Property Investor…
— JUST SCROLL TO THE BOTTOM TO REGISTER, LIMITED TO 50 ATTENDEES PER EVENT —
What Nhan teaches is based on 10+ years of trial and error doing over $21,000,000 of property deals including splitters, subdivisions, strata titling, house and land packages, Property Options, Townhouse developments and more….. 
When You Do it Right – Making Money In Property Can Be Effortless…
We All Want That, Right?
I know you're busy — let me get right to the key points of Nhan's training. Nhan will be teaching you…
— How To ATTRACT GREAT DEALS – In Any Market Conditions
— How To Buy Property NO MONEY DOWN and have money left over!
— How To 'Achieve Win/Win' – So price is no longer an objection.
— How You Can Quickly Find Motivated Sellers who want to sell you their property at a Discount…
— How To Find Fr-ee Blocks Of Land and lock in $100k Profit in 6-12 months
— How Positive Cashflow and Property Development Go Hand in Hand
— Why Quitting Your Job & making Money in Property is Easier than You think!
PLUS…
— WHERE THE "CRACKER DEALS"  HIDE and WHERE TO FIND THEM
— How To Eliminate ALL "DUD" Property Deals
— How Your "Mobile Phone" is your greatest asset in finding Investors & worth Millions
AND….
— The Power Of Team – Why Being Independant Is Costing You Millions – And How To Quickly Build A Great Team 
— The Ability To "Ask For What You Want"
— How To Know When A Cracker Property Deal Is Staring You In the Face
JUST DO IT — It Really Is Worth It…  
— SCROLL TO THE BOTTOM OF THE PAGE TO GRAB YOUR SEAT —
Nhan has been called the "No Money Down Man" and for good reason. He has done dozens and dozens of No Money Down Deals and is brilliant in how he presents and trains others. 
Here's his completely unique formula for Property… 
YOUR CURRENT RESOURCES + THE RIGHT SKILLS + DIRECTED ACTION + RIGHT MINDSET = LOTS OF GREAT DEALS AND OPPORTUNITIES = LONG TERM SUCCESS 
Honestly — It's THAT FORMULA that separates Nhan from all the other Property trainers. 
He's so passionate about Long Term, Self Generated Success. 
— YOU CAN REGISTER AT THE BOTTOM OF THE PAGE —
— LIMITED TO 50 ATTENDEES PER EVENT — 
Just watching Nhan is an education in itself — He's extremely generous and fully transparent as he walks through his own deals and shares what's worked and what mistakes he's made.  
He's a LIVING, BREATHING, ASTONISHING DEMONSTRATION of exactly what's being taught. It's quite an experience.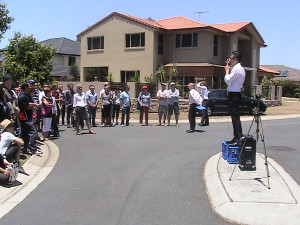 As Nhan says during the training — you should pretend you paid to be at a $7000 seminar. This is the type of proprietary information typically shared at such elite events.
It's sincerely hard to believe you can attend — at the early bird price — of just $19.95.          
—- See Below To Register —-              
BRISBANE TICKETS – Limited to 50 Attendees Per Event
Where & When:
Brisbane: Saturday 15th November 2017 
Early Bird Pricing, $19.95 
Buy 1 Ticket Bring a Friend for FREE – Click Here to Book Your Tickets
Location: The Colmslie Hotel, cnr Wynnum and Junction Roads, Morningside
Times: 6pm registration for 6.30pm start, night concludes at 9.30pm.
As Jason Marianoff, a full time property Investor put it…
"It's been a fantastic event… There has been a real sharing of information, Nhan is very open and has a lot of integrity, and I feel that the value is absolutely fantastic. I'm buzzed!"
I must tell you — A full day with Nhan is like a 7-day intensive with most trainers.
Everyone takes at least 11 pages of notes and often it's more than 17 pages.
In other words – there's ZERO BS and Nhan gets straight into the 'key POWER learning points.'