2017's Mother's Milk Bank Brisbane Property Adventure is Here!!!!!
Be Surprised!!!  Be Delighted!!! Be Inspired!!!!
Over the last 4 years we have produced many sell out Property Adventures, with countless positive feedback ,
and in 2017 this much anticipated event will not disappoint.
 Brisbane Property Adventure is On Saturday 27th of May ! Don't Miss Out!
See, the difference is that this is not just history, but rather history in the making, Real Mums and Dads Making Real Profits,
applying themselves using proven strategies that work in the Current Market.
Matt Jones (Brisbane Property Networking Group) and Nhan Nguyen (Advanced Property Strategies)
have teamed up with Mother's Milk Bank to present an exciting journey around Brisbane,
showcasing Brisbane's profit centre of Cracker Property Deals.
These are not prehistoric BORING BUY, HOLD & PRAY DEALS  that lose money daily via
Negative Gearing & awaiting Capital Growth,
they are current deals being done NOW in the CURRENT MARKET by REAL EVERYDAY PEOPLE.
(Note:  This is purely an Educational Event, Not a Property Marketing / Real Estate Sales Fest, so prepare to Learn)
Where are the deals you say?  "I can't seem to find any!!" some of you might be saying….yet they are everywhere…let's go check out the following projects that are out there:
Townhouse & Unit Deals – how you can make MILLIONS OF $$$ in only 1 or 2 POSTCODES!!!
Subdivisions – how a Full Time Employee sold her backyard & made $140k, how an ex-Truck Driver did one & made $106k with a Joint Venture Partner!
Splitter Blocks still making people $$$ – in well known suburbs that apparently have no opportunities left!!!
Cashflow Positive Properties within 15km of CBD, OMG yes they are out there!
Now Confirmed for Saturday 27th May 2017!
Real Projects revealed by Real Everyday People including:
Property Options: How To Buy Property Use Little/No$ Down
Brand New Homes: Building Brand New Makes It Easy To Sell!
Townhouses/Units:  The Power of  Leverage , It can Make You Mega Rich!!
Cosmetic Renovations:  Trick and Flick, Practically anyone can do it!
Come join us on a Fun and Info-Packed Day filled with Practical Learnings and Meeting Lots of Like-Minding People.  Study live projects and lessons as well as investigate REAL DEALS ON THE MARKET.  With 20% of all ticket proceeds going to Mother's Milk Bank, we are proud to be sponsoring a great cause doing great things ! To find out more about our chosen charity go here: mothersmilkbank.com.au/
When:  Saturday, 27th May 2017 – We will meet in Brisbane 8am registration for 8.30am start.  We will return to our original destination by 6pm.  You will be able to buy meals from a shopping centre / bistro nearby. Tea/coffee/water will be provided at the venue.
Where: Paddo Tavern  – 186 Given Terrace, Paddington 4064
First Timer Tickets – Book Here** 
ULTRA Early Bird Special Price – $97 
Bring A Free "First Timer" Guest*
General Admission Tickets – Book Here** 
ULTRA Early Bird Special Price – $297
Bring A Free Guest*
VIP Admission Tickets  – Book Here** 
ULTRA Early Bird Special Price – $597
Bring A Free Guest*

VIP Admission Tickets give you first 4 row bus seating plus a Dinner With Dealmakers on the night from 7pm to 9.30pm.  Have dinner with the Property Guns doing deals in the Marketplace.
* BRING A FREE GUEST As soon as your seat is booked you receive an email with the link to sign up your Friend for Free. Please Note: Subject to availability. First Come First Served. Free Friends of "First Timer's" must be First Timer's to qualify for seating. Free Friend Tickets are not transferrable to later events. All other tickets have a maximum of one transfer to a later event date only if the APS Team is informed two weeks prior to the event.
** REFUND POLICY: All payments after 7 days from payment will be non-refundable
What:  We will be organising local investors at various Brisbane locations looking at deals, and you will get to check out your own deals on the day.  We will be looking at massive passive income deals like townhouses, splitters, boarding houses, bigger developments and more!
As is consistent with all our programs this is an EDUCATIONAL event & NOT a Property Marketing / Real Estate Sales Fest.
Hopefully that's answered all your questions, otherwise feel free to email us or call the APS office on 1300 225 630 .
Kind regards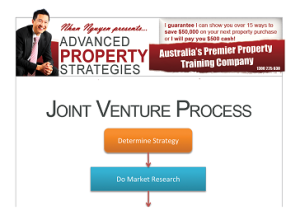 Matt Jones & Nhan Nguyen
PS: Every person who registers into the Bus Trip gets a BONUS Joint Venture Flow Chart & a Options Flow Chart, here's a snippet:
Testimonials of the Past Projects Showcased
Here's some pics from past Mother's Milk Bank Brisbane Property Adventures!!!